Global Symposium "School Health as we confront COVID-19 in Asia"
Reporting day: 2020/11/20/
Reporter: Rie Ogasawara/Elli Sugita

The Joint Congress on Global Health 2020 (GH2020) was held November 1-3, 2020. This congress was the first in Japan to unite the four different academic societies; 1) Japanese Society of Tropical Medicine, 2) Japan Association for International Health, 3) Japanese Society of Travel and Health, and 4) International Society of Clinical Medicine. 

"Campur", which means "mixing with each other" in Indonesian, was the motto of this joint Congress with the goal to promote integration and collaboration among disciplines, cultures and people.

Unfortunately, we could not have the onsite conference in Osaka due to the novel Coronavirus (COVID-19) pandemic and it was shifted to a virtual conference.  

JC-GSHR, in collaboration with Osaka University UNESCO Chair in "Global Health and Education," organized a global symposium at the GH2020.

The title was….

School Health as we confront COVID-19 in Asia
~What we learned and where do we go from here?~

The symposium focused on school health during the COVID-19 pandemic among seven Asian countries (Cambodia, China, Japan, Korea, Lao PDR, Nepal and the Philippines). All these seven countries are located in Asia, but the prevalence of COVID-19 in the region varies greatly. School closures followed by school re-openings have occurred in many countries, but "how" and "when" varied greatly as well. The aim of this symposium was to better understand the roles and responsibilities of schools under, with and after COVID-19. Each speaker made excellent presentations outlining the situation in their country, the impact of COVID-19 on schools, and school health.

We were honestly disappointed that we could not meet in person and have lively discussions in Osaka, but we promised to meet with a smile in Osaka in 2021 and closed the symposium successfully.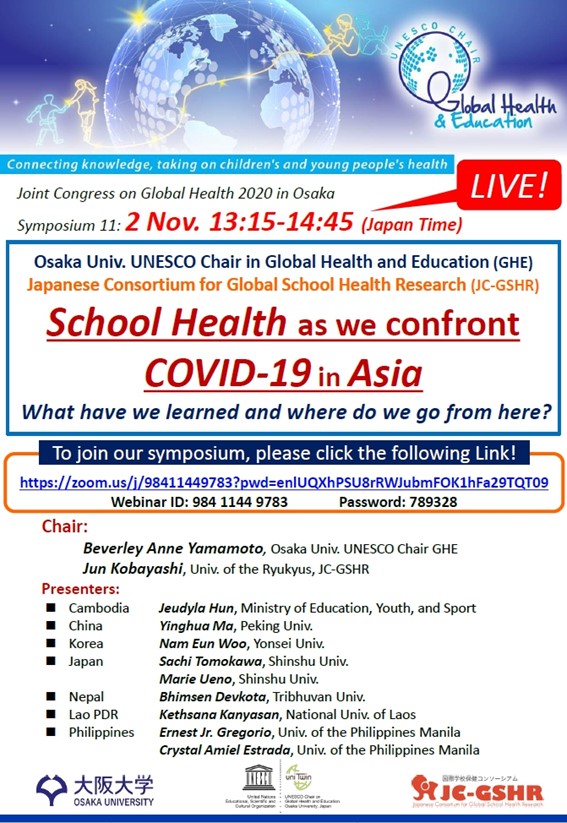 投稿者プロフィール