The seminar report of 3rd "Comprehensive Sexuality Education" presented by Professor Beverley Yamamoto
Reporting day: 2021/4/2/
Reporter: Fumiko Shibuya

The Japanese Consortium for Global School Health Research (JC-GSHR) has many professionals with a wealth of experience in the field of international school health.
We invite professionals specializing in each field as lecturers on topics of interest in the international school health, and hold seminar for members.

At the 3rd seminar, Professor Beverly Yamamoto of the Graduate School of Human Sciences, Osaka University gave the lecture on "Comprehensive Sexuality Education".
Professor Beverly taught us regarding the Comprehensive Sexuality Education advocated by UNESCO, the approach to human rights, and the current state of sex education in Japan.

In the question-and-answer session, we discussed how to teach sex education, protection of human rights, and challenging issues related to sex education.

The content of this lecture has been uploaded to YouTube and is open to members only.

This seminar is a valuable opportunity to learn from professionals of JC-GSHR.
We hold seminars on a regular basis.
If you are interested in the special seminar, we look forward to your participation.

Thank you so much.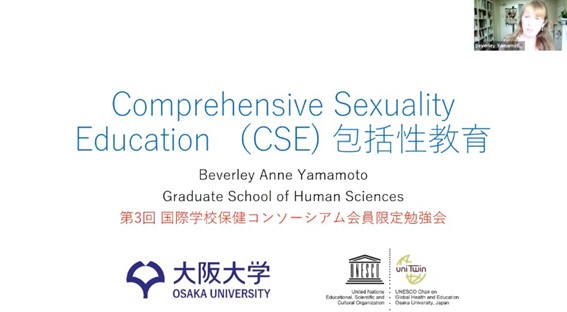 投稿者プロフィール